---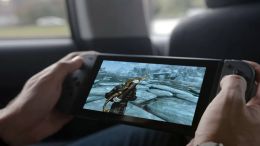 The Elder Scrolls V: Skyrim released on the Nintendo Switch in the middle of Fall last year, providing a convenient way to play Skyrim on the go and boosting the Switch's library for its first year in action. Despite this, the Switch version of the game has a perceived lack of a community-favorite feature: Mods. Fans have been hoping to see the feature make its way over to Switch ever since, but it's been all quiet from Bethesda Game Studios up till now. At Gamelab, Bethesda Game Studios' head Todd Howard finally acknowledged the absence of mods on the platform, and while the hopes have been kind of deflated for now, Bethesda is paying some attention.
"Skyrim Switch has a big community that we haven't supported the way we'd like," said Howard during his presentation. In the follow-up interview, Howard got more specific about his meaning behind that statement. "They asked for mods, they asked for Creation Club - 'When are we getting more stuff?'" According to Howard, it's not in the cards right now. Currently, Bethesda is doing nothing to fix the problem, as their attention is focused elsewhere, like the recently released Fallout Shelter on Switch. Howard clarified that they would love to eventually see mods on the Switch, but currently, that's not something the company is actively doing. In summation, a glimmer of hope, but not anything soon.
Creation Club is Bethesda's recent answer to the question of mod support on consoles, though it's a relatively new feature and one that's had a bumpy road so far. Modding games is a popular practice when it comes to PC titles, and Bethesda's games have had a long history with that. Players with the right know-how and passion can take the game's existing code and modify or add to it, creating a mod in the process. Mods range from quick and easy content additions to aesthetic swaps, to actual gameplay fixes and improvements, all of which are shared with the game's community for download. Traditionally, PC mods tend to all be free. A controversial decision behind Creation Club was to make its mods for consoles a paid feature. Bethesda has responded to these criticisms in the past, retorting that the mods made through Club are made by independent creators with funds provided by Bethesda themselves to help improve quality. Modders using the Club have backed this up, with positive responses to its good quality control. Additionally, Creation Club mods can't be stolen by other modders, as has been the case often times on PC.
Howard assures that Bethesda games will all have focused mod support going forward, but currently, "we still think there's a way to go there." One of the main struggles is the curation of the content on the console space, compared to its unregulated nature on PCs. In any case, Fallout 76 will have Creation Club mod support when it releases on November 14th this year for PlayStation 4, Xbox One, and Windows PC. While we know next to nothing about it, the recently announced Elder Scrolls VI will likely have a huge modding community behind it, due to Skyrim's vast amounts of mods. The real unknown in the whole equation is Bethesda's newly announced IP: Starfield. Howard also spoke of this during Gamelab, revealing that it's something they're planning for very far in the future with next-generation hardware. You can view the interview with Todd Howard in full on Eurogamer!