---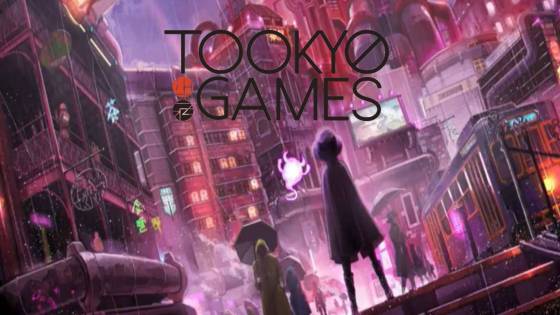 As we reported a few weeks ago, Danganronpa and Zero Escape's creators joined forces in creating a new development studio going by the name of Too Kyo Games. When their company was announced, four new projects got announced alongside it. One of these projects was Death March Club, which at the time was untitled, featuring only a colorful and cartoonish-looking piece of artwork. Today, both Kodaka and Uchikoshi have released more information about the game, including its title of Death March Club, to the public. Alongside the info given, they've revealed new screenshots that show the game in action for the first time. Those who have played Danganronpa and Zero Escape will be entering familiar territory with this game, as it's yet another that focuses on a death game.
In the statement provided by Kodaka, he said that he was originally going to take a break from death game settings after wrapping up Danganronpa. Uchikoshi convinced him to give it another go, and thus, Death March Club was born. Even so, Kodaka clarifies that it will be the last death game they work on. Death March Club's setting is a little more controversial than Danganronpa's, focusing on a group of twelve elementary school students. The main character, the boy seen in the artwork with the hat, goes by the name of Reicho. The ideas and themes behind the game's story are reminiscent of Lord of the Flies, which is a story that also explores the idea of a group of children cut off from society and changing as a result. The art style behind DMC is significantly different from both Danganronpa and Zero Escape, sporting a more cartoon-styled and innocent look that betrays the game's darker nature.
As with their other games, DMC will be a visual novel, but not entirely. According to both the developers and the screenshots, the game will feature numerous puzzle and action sequences taking place in a 2D side-scrolling format. As Reicho, you'll group up with the other kids, who each have their own unique abilities to help you progress. In this way, the action of the gameplay is more blended with the visual novel story segments, rather than existing as two separate things. The adventure portions will be fully voiced, and true to form, there will be many twists and turns in the narrative. Kodaka confirmed the game's length, stating that it will take about 20 hours to clear the whole thing. While he's handling the story, the puzzle/action gameplay will be worked on by Grounding Inc. They're best known for their head, Yukio Futatsugi, who created Panzer Dragoon.
Death March Club will be released sometime in 2020 and will be available on PC. No other platforms were confirmed, and according to Kodaka, the decision to release the game to PC is because they're mainly targeting Western audiences this time around. The game's producer, Shinsuke Umeda, is hoping to get a playable demo for DMC put out "as soon as possible", so that they can get feedback from the fans. The other projects announced for Too Kyo Games are likely farther off, but no doubt we'll be hearing about them in due time. The details for Death March Club were provided in Weekly Famitsu, so for the translated highlights, make sure to check Siliconera for those. Since there are already screenshots for the game, hopefully, that means we'll see a full-fledged trailer in the near future!