---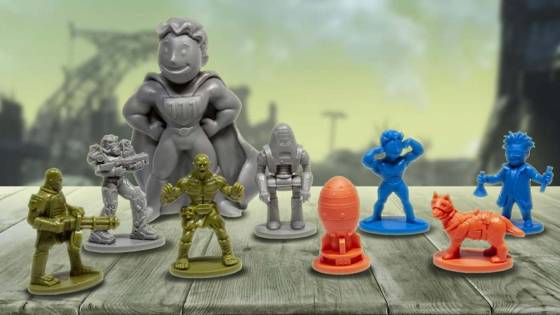 Whether you love or hate Fallout as a series, one thing is for sure: It's incredibly popular. The post-apocalyptic series of games has been a large part of the industry for a long time now, and this inevitably means that merchandise is going to get made for it left and right. Today, dear reader, I'm here to tell you about toys. I know! Different, right? But another way to look at these would be valuable collector's items, especially for those who want to express their love of all things Fallout. Recently, online toy retailer Toynk unveiled two unique Fallout box sets that come with a variety of goodies and toys therein. If you're interested, make sure to read onwards, as we'll be comparing the two and their variety of contents.
The first box set, Volume 1, has a larger emphasis on everybody's favorite game mascot: Vault-Boy. Plastered on the front of the box, a lot of Volume 1 centers around the different appearances Vault-Boy takes on throughout the Fallout series. The box in its entirety comes with a whopping total of thirteen figures; twelve of these figures are 2 inches in length, while the thirteenth figure towers over them at 4 inches. Fittingly enough, that 4 inch figure is none other than the Toughness perk represented by Vault-Boy. Vault-Boy also shrinks down to size with two of the 2 inchers consisting of the Strength and Chemist perks from in-game. Don't worry, though; Vault-Boy isn't the only one dominating this collection. Four of the 2 inchers consist of NPCs, including Protectron, two Super Mutants, and a T-60 Power Armor. A Mini Nuke and armored version of Dogmeat (best companion) also make an appearance. Mysteriously enough, the remaining four 2 inchers are secret ones. If you want to find out what they are, you'll just have to purchase the box!
That leads us onto the second box set, appropriately named Volume 2. Vault-Boy makes less of an appearance here, though he's still around. Volume 2 instead focuses more on the NPCs and marketing that make up the Fallout universe, the very same NPCs and marketing that give the games that Americana flavor. Just like with the first box, the second gives us thirteen figures total, with one 4 inch and twelve 2 inch. The NPC receiving the honors for 4 inch is Liberty Prime, the giant mech from near the end of Fallout 3. Other NPCs included, though smaller, include Mr. Handy, Strong, a Raider Veteran, and one Super Mutant. On the marketing side of things, we've got a Nuka Cola bottle and Jangles the Moon Monkey (yeah, remember that one?). And finally, Vault-Boy, coming in the form of yet another set of two perks: Party Boy and Commando. Well, I say finally because just like the other box, four figures in here are mystery inclusions as well. All in all, though, that's a lot of variety!
Which one you get will likely be determined by how much you like Vault-Boy, so it probably won't take long to decide. In case you were curious what kind of figures these are though, the official description has you covered. "Made from hard plastic, our figures are durable and also highly detailed and feature an "army men" style design!" it reads. "Each figure is digitally sculpted for maximum detail and authenticity." Therefore, if you had some of those little army men toys growing up, you'll know what sort of aesthetic these are going for. Each box set costs $19.99, and you can view them in full on Toynk's official website. Best of all, shipping is completely free. It's a good choice for if you missed out on Fallout 76's range of special editions, all of which came with similar goodies. Fallout 76 has been out for a couple of months now, and has seen a fair share of controversy and lackluster bugs that Bethesda has been experiencing. Hopefully they get those fixed up soon. Fallout 76 is available on Windows PC, PlayStation 4, and Xbox One, and marks a series first by being a multiplayer-focused title in a shared open world.