---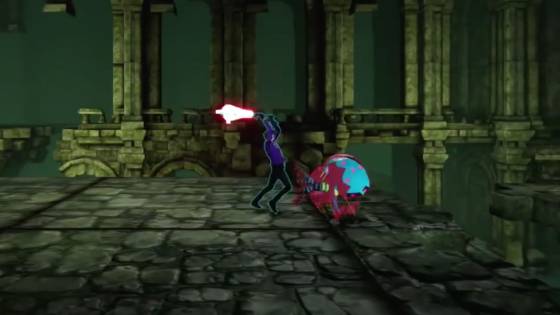 Just last Friday, Suda51 and Grasshopper Manufacture's famous No More Heroes series finally got a continuation in the form of Travis Strikes Again. It's been just under a decade since the last installment of No More Heroes released, and Travis Strikes Again sees the return of the infamous anti-hero otaku assassin with crass humor intact. Despite only being out for a handful of days now, the hack-n-slash action game is already receiving a significant update with 1.0.1. The update, which is now live, has added a handy New Game+ mode for when you finish the story. Alongside that, it's brought with it new collectible goodies and an assortment of bug fixes that smooth out the gameplay; a feel-good patch all around, as you can see!
With New Game+, players who have finished Travis Strikes Again can restart the entire thing while keeping your earned EXP and battle skills for both Travis and Badman. This will encourage play on the game's higher difficulties, which is good, because one of those difficulties has thrown in new collectible items as a reward. The brunt of the grind in Travis Strikes Again is earning money to buy t-shirts that Travis can wear in-game. Most of these shirts proudly display logos and artwork from a variety of indie games and developers, both famous and obscure alike. A lot of Travis Strikes Again pays homage to indie games in this way, and the new update has added more shirts to collect. To earn them, you'll have to defeat the game's crazy bosses on Spicy difficulty (the hardest in the game). With players holding on to their power levels and skills from a previous playthrough, Spicy should be a little less intimidating than it was.
Grasshopper didn't go into the details behind the aforementioned bug fixes, simply stating that "several bugs have been fixed to ensure the smoothest gameplay experience possible". Before the game came out, these updates were supposed to be available on the day of the game's launch. While it was only late by a few days tops, Grasshopper still felt the need to issue an apology for the slight delay. Director Suda51 has already stated his intentions to support the game throughout the year with post-launch content updates like these, with two major DLC packs already in the works. These DLC packs will unlock two new playable characters in the form of No More Heroes' veterans Shinobu Jacobs and Bad Girl. Alongside that, new scenarios and stages will arrive alongside them, and the characters' original voice actresses will be reprising their roles. All in all, it's a great time to be a No More Heroes fanatic.
Travis Strikes Again: No More Heroes is available now exclusively for Nintendo Switch. The new update is already out in the wild, so you'll want to make sure that's applied the next time you pop into the game. If you haven't gotten around to getting it yet, make sure to give it a chance. Some No More Heroes fans have immediately been put off by the spinoff game's top-down hack-n-slash gameplay, which serves as a big swerve from what the previous two games were. It still has all of the style No More Heroes is famous for, however, and Suda has already stated that he intends to make an official No More Heroes 3 if TSA sells well enough. Hopefully that's the timeline we're on, yeah? Expect plenty of more updates to the game in the coming weeks. It's not known if any DLC will follow the first two, but it's not out of the question either.