---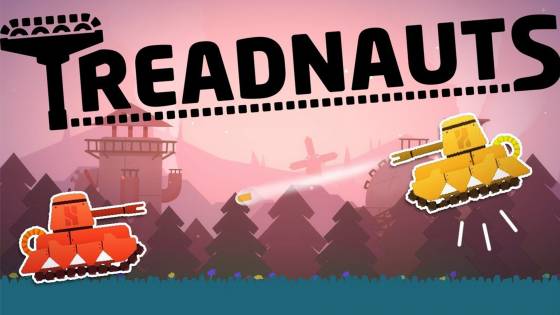 Developed and published by a Seattle based indie studio known as Topstitch games, "Treadnauts" has recently released on August 17th on consoles and has fully released on PC and MAC. The game has been out on PC through Steam's early access since February of this year and before going into early access the game had a public alpha that started late last August. Topstitch games has finally fully released Treadnauts, giving it the green light out of early access and making the game a full product. With its full release, the game got a brand new two-minute trailer that you can go watch right below.
The launch trailer starts off with an animated cutscene that quickly morphs into real gameplay footage. It rapidly shows off several of the game's characters and some of the games interactive stages. All of Treadnauts stages are varied and have their own styles and quirks. Some stages have hazards, most commonly a wrecking ball type hazard. The wrecking ball hazard is a huge metal ball in the middle of the stage that any player can use to crush another player, However, the opposite can occur, and the player can be crushed by another human or AI player. Additionally, there are stages that have platforms and modifiable terrain such as being able to shoot away the snow which is shown off in the trailer. The player can use the stages terrain and platforms to their advantage. The trailer also showed off a plethora of the game's powerups. The power-ups come in crates which the player can then break, collect, and use. The trailer also shows off a Super Smash Bros like break the target mode which has players skillfully destroy all the targets in a set amount of time to clear a stage.
Treadnauts at its heart is a local multiplayer competitive tank shooter with some unique twists. The game can be played either with friends or A.I. Bots and has the user play as one of many tank characters. Up to four players can fight it out at once. The objective of the game is to destroy the other persons tank through any means possible, this objective can be achieved through shooting at the other players with your tank's cannon, jumping on other players and crushing them with your tank or through the previously mentioned stage hazards. The game has plenty of different techniques and ways to play with a substantial amount of different rule modifications to change up the game. Overtime more modifications, stages, and characters can be unlocked.
Overall Treadnauts seems to be getting good reviews having a "Very Positive" rating on its steam page. Treadnauts is Topstitch games first released game and if you are interested you can pick it up now on Nintendo Switch, Xbox One, Playstation 4 and on PC or MAC through Steam. The game is $9.99 USD on consoles and $12.99 USD for PC and MAC. The game currently has a 25% off sale on Steam until August 24th and the games soundtrack is also available for purchase here. If you would like to learn more about Treadnauts you can go to the game's website.