---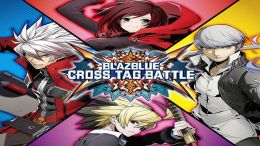 Cross Tag Battle is the kind of fighting game that will be right up your alley if you're a fan of any one of these 4 franchises: BlazBlue, Persona 4 Arena, RWBY, and Under Night In-Birth. As the Cross in the name of the game implies, Cross Tag Battle is a sort of crossover fighting game, in which characters from all four of the above-mentioned franchises duke it out in 2D combat, meaning there will be fanservice aplenty! Naturally, the game is being developed by Arc System Works. Recently, the developer listed out their plans for PS4 players, revealing that a beta and demo will be on the way here soon for them specifically (at least for now).
The beta will run for a short amount of time, though slightly longer for those of you who pre-ordered the game digitally. For the latter, the beta will begin on May 9th, while for all other players, it will begin on May 12th. Once open, you'll be able to enjoy the beta until May 14th when it closes. In a strikingly different move from other betas for fighting games in the past, Cross Tag Battle is proud to tout a Vs. CPU mode exclusively to the beta itself. Fans will be able to enjoy this, as well as the Online Vs. and Training Mode that has come to be expected. Nintendo Switch fans can expect a beta of their own between now and release, but there aren't any specifics as of this time.
Don't despair if you aren't able to get into the beta in time though, as a playable demo for the game will be made available once it ends. This demo will be offline, so the Online Vs. mode featured in the beta won't be found here. Fans who pre-ordered can even look forward to exclusive content with this too, as they'll be able to play against a second player offline in the demo version. There are twenty characters in all to choose from in both, all spanning across the four franchises, but the actual game will have a whopping forty characters (including DLC).
This timing makes sense, as BlazBlue: Cross Tag Battle is only a month away from release, set to hit the states on June 5th around the time E3 begins. Japanese players can expect it slightly earlier, on May 31st, while European regions don't have a confirmed date yet. Whoever you are, and wherever you are: You'll be able to play the game on PlayStation 4, Nintendo Switch, and Windows PC. For the Switch crowd, make sure to keep watch for beta news on your end. No word yet on if Switch players will also receive a demo like PS4 players are. You can view the full break down of the news and characters on Arc System Work's official site, or just check out the trailer below to see it in all of its glorious 2D fighting action.