---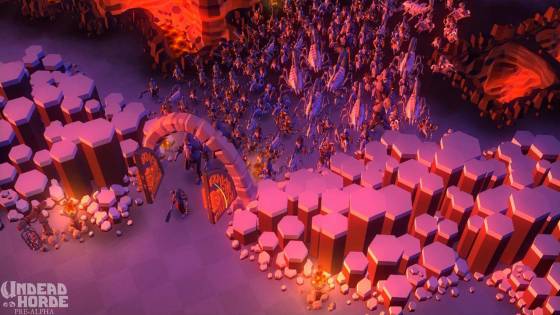 10tons has created some great games before, but Undead Horde is their next game and one of their most ambitious. As a necromancer, you have to raise the dead and make use of a few different skill sets to succeed. You want to hack and slash away at enemy hordes or blast them away with hellfire and brimstone. You also need to properly plan where to put your troops. You've got to raise an army up against the evil human race, who has driven you and your undead followers into exile. You can get the last laugh on them though by slaying them and then making them join your army - effectively making them the very thing they hated.
There is a lot to take in with this game, and it has a robust menu system. You can pick and choose various sets of troops to battle certain enemies - so if you want to send a pack of lower-level characters after a boss, you'll probably lose them quickly. But sending that same pack after a lower-level set of smaller enemies would probably be a wise move. It allows you to make them better and also take away their troops. With up to 100 of your own to deal with, you can stand to lose a few - but why encounter losses when you don't have to?
You can build up the strength of your army by looting enemy treasure chests or taking from the dead. It might be bad karma in a traditional sense, but you're leading a group of the undead - so morals can be a bit lax. You can take over their villages and shops and turn them into money-makers for your own side if you want to. This is a small part of things though, as you can take over entire villages if you so desire. The end game goal is to theoretically take over the whole kingdom of the living - so there is definitely a sense of larger-scale progression at work with every battle. A small victory can give you the momentum you need to carry you into a larger one, and thus take over some territory.
Boosting your group with items is cool in any game - but a bit cooler here because the items are procedurally-generated. This offers up limitless amounts of items and buffs and lets you combine XP gains into items and boosting things like damage caps for attack types. There are a wide variety of lands to take over - from forests to deserts and even wastelands. What's been shown off so far looks very impressive given that it's a fairly minimalistic game in terms of visuals - with an emphasis on creative lighting effects and the environments conveying a spooky mood over WOWing someone with high polygon counts and groundbreaking textures.
The game is set for release soon - with a Q4 2018 release set in stone. You can apply to play the alpha now, but they're only looking for Windows players on that right now. Fortunately, when the game launches, it will have full Linux support alongside Mac OS X support and of course, be playable on just about any device running Windows. You can still have a Windows Vista machine and this game will run on it - so they're optimizing it for as many people as possible. More info can be found on the Undead Horde Steam page.