---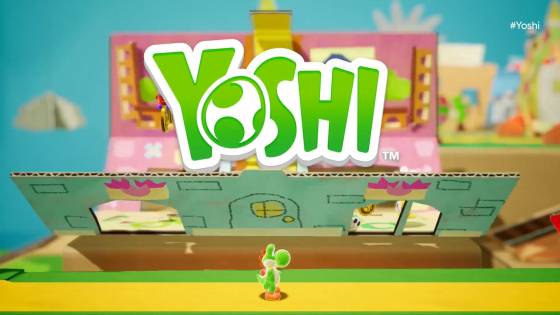 Back in E3 2017, Nintendo unveiled their brand new upcoming game starring everyone's favorite anthropomorphic dinosaur in gaming - Yoshi. The released gameplay during that time revealed that it was a 2.5D adventure platformer developed with the Unreal 4 Engine featuring an adorable cardboard setting.
On September 6th of this year, Nintendo was scheduled to have a Nintendo Direct where they would show off a couple more games though no speculation was given before to what they would discuss on the broadcast itself. However, tragedy struck and a horrible typhoon (now named Typhoon Jebi) struck the western region of Japan causing many people to evacuate their homes. The Nintendo headquarters based in Kyoto was severely hit, even knocking down the letter "N" from the building itself. Soon after, an earthquake of 6.7 magnitude hit in the region as well and caused the broadcast to be delayed.
On Nintendo's website, in the "You might also like…" section of the Super Smash Brothers Ultimate and the Pokemon Let's Go, Eevee! Page, it can be seen that a placeholder for the 2019 Yoshi game was titled Yoshi's Crafted World.
The game was rumored to have a 2018 release date but with this new information, we can see that it is probably planned to release in 2019 instead. It seems as if Nintendo had planned to release this new information about Yoshi's Crafted World but after the broadcast had been canceled, they just forgot to take off the placeholder. Since then, it has been removed. Along with this, other publishers have jumped the gun as well as a surprise demo for Mega Man 11 released for the Nintendo Switch as well as an instant release for Broforce.
Reporter Laura Kate Dale, who has reported multiple accurate incidents of Nintendo leaks in the past, also weighed in saying: "A lot of companies had things lined up to happen today and tomorrow due to that Nintendo Direct. I totally get why the Direct was pushed back, but without a doubt, things from it are going to leak as a result of planned announcements having to be canceled and delayed."
The name sounds pretty fitting, especially because the last Yoshi title released for the Wii U back in 2015 was titled Yoshi's Woolly World. Also to note, that title was the first home console release of the Yoshi series since 1996's Yoshi's Story released for the Nintendo 64. So it feels apparent that Nintendo is trying to reboot the Yoshi games and there is an apparent them to the names of the titles.
But everything still remains only speculation. Nintendo has not released a date for their next Nintendo Direct but they will probably release more information about Yoshi's Crafted World then.