---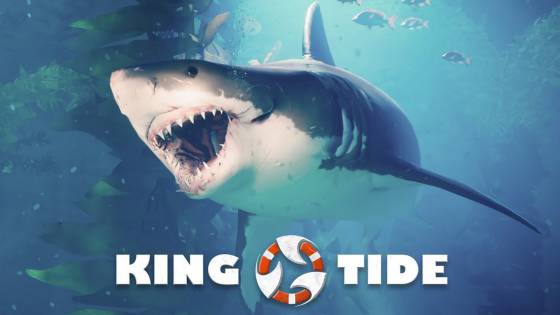 I mentioned that new battle royale games seem to all be pretty similar to one another, with upcoming titles like Mavericks looking to change the game in their own unique ways. Upcoming Steam Early Access title King Tide also wants to throw their own spin on the genre, this time in the form of the ocean's most ferocious predators. Yes, that's correct: Battle Royale with great white sharks. Why didn't anyone think of this sooner? The developers over at Digital Confectioners put out a brief new trailer for the game just the other day, alongside further info of what to expect when it kicks off in just a month from now.
Those familiar with Digital Confectioners may remember their 2014 game known as Depth. This game too had a focus on underwater shooting and sharks, so King Tide looks to be an experience right up their alley and will deliver the same kinds of intense thrills. King Tide changes it up by having the sharks be AI controlled enemies this time, rather than controlled by other players. Because of this, they provide a very random and chaotic element to the typical battle royale gameplay you've come to know and expect. You're dropped into the depths of the sea with 99 other divers and must contend with the sharks while trying to survive the actual match. "Avoid bloodthirsty sharks, locate equipment, and do whatever it takes to be the last diver swimming!" says the game's official Steam page blurb.
The game isn't all lone-wolf stone-cold battle royale though. Players who prefer it can choose to play in squads instead of by themselves, in order to improve their odds. However, that does bring into question what said players will do when their squadmates are the only ones remaining. The game's info says you can ramp up the challenge by playing alone, or by playing with something called 'the artifact'. There's no info yet on what this artifact is supposed to do, but we'll certainly find out soon. According to Digital Confectioners, King Tide has been a long time coming. They had planned the game as a prototype back in 2015 when popular battle royale mods were beginning to emerge, but Depth got the precedence at the time. Fast forward a couple of years later, mainstream battle royale and battle royale mods alike are all doing extremely well, so bringing King Tide out of its prototype stage just seemed like the natural course of things.
So when can we expect to overcome our shark phobias and get to surviving? King Tide is set as an Early Access release sometime this August and will run you a reasonable price of $14.99. There's no sign ups or anything like that, so we just have to wait for a month. In the meantime, there are some key spots to check out for more info about the game! The official website is a good first place to start, followed by the official Steam page so you can add it to your wishlist if you're planning on playing it. Make sure to view the new teaser trailer below, which will basically be fanservice to all shark lovers out there. Keep an eye out for a more official release date in the coming weeks!