---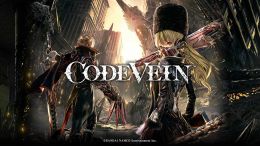 Code Vein is the upcoming action-RPG in the works over at Bandai Namco, and the game looks right up their alley in terms of their past history. Announced early last year, we've gotten brief but interesting trailers sprinkled throughout since, showing exactly what to expect once the game hits shelves. Today, we finally know when that date is going to be, and have an even longer new trailer to show for it. Code Vein is set for a worldwide release on September 28th, though it will be releasing in Japan a day earlier on September 27th. There is some information about other editions, but with a caveat, which will be discussed below.
But first, what's the deal with Code Vein? The easiest way to summarize it would be to call it what a lot of the Internet has taken to calling it: Anime Dark Souls. Despite how goofy or exaggerated that may sound, viewing any of the gameplay trailers, as well as this newest one, highlights just how true that is. Code Vein takes place in a post-apocalyptic open world, named Vein, filled with vampires known as Revenants. You just so happen to be one of these Revenants and must traverse through dangerous dungeons in order to gain blood to power yourself up. The game is being directed by Hiroshi Yoshimura, of God Eater fame, so that may also give you an idea of what to expect here. Like Dark Souls, your character is created and customized by you. The game has quite a deep customization system, which has been showcased in past trailers.
The similarities don't end there, however. Some have said that it may be more appropriate to compare the game to Dark Soul's spooky cousin, Bloodborne, due to the game's style of gathering blood and playing as vampires. While blood in Code Vein is meant to strengthen you and give you new powers on a more crazy level, giving into the bloodlust too much risks turning your character into one of the zombie-like Lost, so it becomes a sort of risk-vs-reward system. Combat is Souls/Borne-esque, featuring tense encounters with carefully timed attacks, dodges, stamina usage, and the like. Basically, if you're into the Souls series, and don't mind the vibrant and showy anime aesthetic, chances are you'll enjoy Code Vein. Considering Bandai Namco's history as the publisher of the Dark Souls games, the inspiration here is clear and makes sense.
While the trailer for the West is a good, lengthy four and a half minutes, the trailer for Japan has an extra two devoted to discussing a limited edition for the game. Known as the "Bloodthirst Edition", this comes with a special game box, 22-track OST CD, figurine, art book, Code Vein x God Eater card, and various DLC. This edition has only been confirmed for Japan so far, so we'll be keeping an eye out for if Bandai Namco has word on an overseas version. In any case, you can expect Code Vein's action-packed world to shake things up on September 28th later this year, and pre-orders are already open. It will be available on PlayStation 4, Xbox One, and Windows PC via Steam. Sit back and enjoy the trailer below, which is one of the coolest looks we've seen regarding the game yet!