---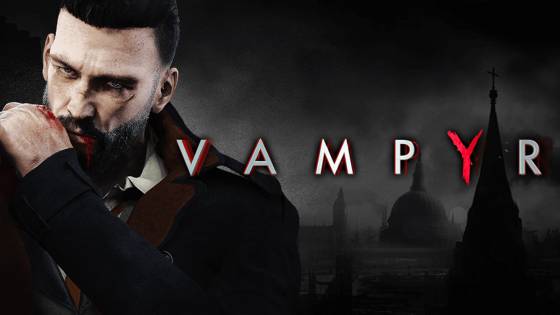 Dontnod's vampire-centric action RPG game, Vampyr, released early on last month just before the start of E3. Players have been making their way through it since, but a common complaint sent Dontnod's way was the fact that the difficulty really spikes up in certain sections of the game. It's debatable whether this was intentional or not, as the core experience of Vampyr's gameplay is deciding whether or not to feed on civilians; doing so makes you more powerful, but going pacifist makes the game and enemies harder. Despite this, publisher Focus Home Interactive has confirmed via their official forums that a much-needed update is on the way for all platforms, bringing with it optimizations and two brand new difficulty modes.
The difficulty modes come in two flavors, and they're on polar opposite sides of each other. The first is the 'Story Mode'. This mode de-emphasizes the importance of combat, weakening enemies and instead putting a greater focus on Vampyr's narrative, story, and characters. For people who want to play the game pacifist, or just enjoy the story, this mode will be right for you. The other mode, simply titled Hard Mode, re-works the XP gain you get from killing enemies. By lessening this considerably, players will be forced to rely on sucking civilians' blood in order to actually gain any considerable power or stand any chance against the harder enemies. By providing these two other ends of difficulty, alongside the standard difficulty currently available, Dontnod hopes to make the game enjoyable for everyone in the way they see fit to play.
The aforementioned optimizations have also been a largely requested need, especially from the game's PC community. PC players quickly found that no matter how high-end their setups were, performance issues still plagued the title (pun very intended). Focus Home Interactive didn't go into the specifics of these optimization tweaks, but they're likely to help the game's current problems on all platforms. The publisher stated that the update will drop sometime later this summer, which puts it likely somewhere in August. Those who haven't gotten the game yet may want to hold off and wait until this time, and then prepare to sink their teeth in.
Vampyr is currently available on PlayStation 4, Xbox One, and Windows PC. If you'd rather not wait till the update comes, Steam is holding a nice 25% discount that will net you the game for a mere $37.49. This sale has helped push it high up on Steam's top-sellers chart, which is a nice improvement to see. In the meantime, developer Dontnod has many other games currently brewing over at their studios. Life is Strange 2's first episode is coming September 27th, with more info about the game to be revealed in August. Meanwhile, the developer is working on a farther-off game; a small town murder mystery known as Twin Mirror, which got its own trailer just before E3. Make sure to check out Focus Home's official, yet brief, post on the update news! Or, if you're feeling spooky, watch Vampyr's launch trailer just below.