---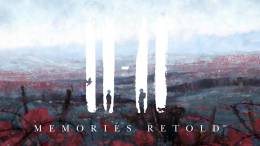 Those of you who grew up through the 90s and early 2000s may be familiar with the company Aardman Animation Limited. While the name may not sound familiar, you'll probably recognize the various works they've created, like Wallace and Gromit and the film Chicken Run. The studio is famous for their stellar clay stop-motion animation that was used to create these works. Aardman is looking to get into something a little different this time around though: A video game. And surprisingly enough, the video game in question won't feature clay or stop-motion animation of any sort. The game is called 11-11: Memories Retold, and centers around the War to End All Wars itself: World War I.
11-11 came about through an interesting set of partnerships between multiple studios. Aardman Animation Limited is, of course, heading up the project, but with assistance from DigixArt, a French developer, for the nitty-gritty of actually making the game. Bandai Namco Entertainment America is also assisting in publishing it. As some who have studied up on their WWI history may know, the title 11-11 has significance, in that it represents multiple holidays: Remembrance Day, Veterans Day, and Armistice Day. Founder of Aardman, Dave Sproxton, had this to say about the game: "Engaging audiences with compelling stories through animation is at the heart of what we are trying to do at Aardman. With this project, we want to produce an emotionally rich experience with distinctive visual character to help you understand what war is all about."
That distinctive visual character is displayed in full in the reveal trailer they put out for the game today. 11-11 features a very beautiful and unique visual style that makes it look similar to a painting. The game will be strictly narrative-focused, though outside of that, nothing about the gameplay is known, aside from it being an adventure game. What is known about the story can be gleaned from the cryptic description attached to the trailer, stating that it follows two soldiers who are "brought together in the most unlikely of circumstances." These two soldiers can be seen in the logo. Despite all the vague details so far, Bandai Namco said to look out for more info on the game soon.
11-11: Memories Retold is being developed for Windows PC (via Steam), Xbox One, and PlayStation 4. Since those are the only confirmed platforms, it's unknown if the Nintendo Switch will ever see the game or not. No release date has been said, but given Bandai Namco's comments, we may find out one soon! It would be pretty clever if the game happened to release on 11-11. You can check out the reveal trailer below, and take in the very pretty art style for yourself. The trailer is backed by a reading of the WWI poem In Flanders Fields, by John McCrae, which was about the death of McCrae's friend in the Second Battle of Ypres. It really sets the tone for the whole thing.