---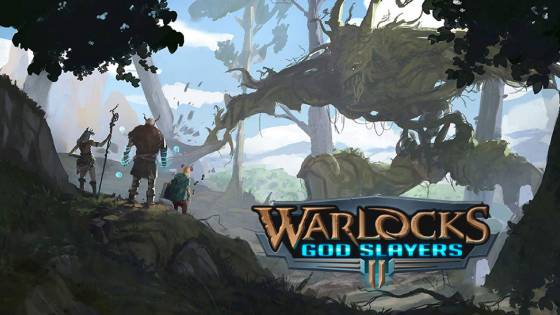 The Nintendo Switch has been doing really well in regards to indie titles. Specifically, they keep getting games onto their systems, and for whatever reason, a majority of those titles do really, really well. To the extent that more and more indie developers announce their titles coming to the system. Case and point, Fat Dog Games and Frozen District have revealed that their Co-op Action-RPG title Warlocks 2: God Slayers will be coming out on the Nintendo Switch this October. Yet another big indie game coming to the Switch.
A sequel to the hit original game, Warlocks 2: God Slayers brings action-RPG goodness to the Switch in the form of a grand hack 'n slash adventure, one that has retro looks and feels. But, like any good RPG, you'll be able to choose between 5 different warlock characters to be. And also like a good RPG, each of those characters has a unique feel and fighting skill, you'll definitely want to check each of them out before deciding which way you want to go. But, once you do decide, there's a grand adventure waiting for you. One that doesn't just take you to one world, but several.
Warlocks 2: God Slayers brings you three unique worlds to visit and battle in. But, in a new feature that wasn't in the original game, you can now explore these worlds and find hidden secrets that are in them. The team wanted to make sure that these worlds were expansive, and now you can see the effort of their work within the game. As if that wasn't enough, each world has their own creatures for you to battle, including mini-bosses and final bosses. But don't just rush in swinging your weapon or hurling magic, the monsters may not be harmful, and will react based on what you do.
Also, an improvement from the first game is the story. The story this time has you fighting through main quests and mini-quests in order to get through. Every single quest you partake in will feature a story, including spoken dialogue and novel-like encounters and twists. The team wanted to expand the story with the sequel, and they did so.
For here, a group of vile gods is aiming to throw the world into absolute chaos, and only you and the Order of Warlocks can stop them. Rise up, build up your skills and powers, gain allies, team up with friends, and take down those who would do the world harm.
Speaking of building up skills and powers, Warlocks 2: God Slayers brings a class system to their world for the first time. Here, you'll be able to choose your class, level it up, and then pick and choose which skills you want to get, truly making the character your own.
With fresh pixel art, a deep hack 'n slash RPG experience, loads of monsters to fight, and numerous worlds to venture into and explore, you can see why many should be happy that Warlocks 2: God Slayers is coming to the Nintendo Switch.