---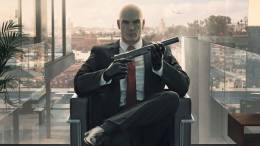 IO Interactive's Hitman game has gone through quite the process when it comes to its publisher. Just last year, publisher Square Enix withdrew ownership of the title and parted ways with Io Interactive in a move to "maximize player satisfaction as well as market potential going forward." In essence, it was a decision based on the interests of shareholders and the industry. This meant that Io Interactive would retain the Hitman license but now be an independent studio without a publisher. Now, it appears that IOI has gained a new foothold in this regard, at least for now, as they've announced via a press release that they've partnered up with Warner Bros. in an agreement to publish Hitman. At the very least, Warner Bros. will be helping IOI publish Hitman: Definitive Edition, a physical version of the game packed with everything that will be released next month.
The name Definitive Edition isn't just for show here though, as this version of Hitman comes with just about everything you could want, including the content that was on the game in the Game of the Year Edition that released earlier. Bundled with this edition are some outfits, the Game of the Year missions, contracts, and outfits, a bonus episode, and all updated packs from prior updates to the game thus far. This means the contracts, escalation contracts, and challenge packs will all be included as well. It'll also be great for people who are itching to have a physical version of the game for collection purposes. In the press release, Io Interactive CEO Hakan Abrak had this to say about the partnership: "We're super excited to be working with Warner Bros. Interactive Entertainment on Hitman and together releasing the Hitman: Definitive Edition to new players. Working with a partner like WBIE means that the team at IOI can stay focused on what we're good at, making games."
And that last statement really rings true, as IOI did confirm that they've been hard at work on the next installment of the Hitman franchise, and also confirmed that they'll be announcing it sometime later this year, though it's totally unknown as to when yet. It's also currently unknown whether this new game will be the 'Season 2' equivalent or something else entirely. That aside, with a publisher, they can now focus entirely on the development side of things rather than the difficult hurdles of self-publishing.
However, the specifics of the agreement don't state whether Warner Bros. will be publishing future titles, or if it's just for the Definitive Edition. Considering the ongoing development of the next title, Warner Bros. sticking around seems likely. Either way, a lot is brewing for Hitman. You can pick up Hitman: Definitive Edition for either PlayStation 4 or Xbox One when it releases on May 15th. Naturally, the PS4 Pro and Xbox One X enhancements will apply to this version too, as an added bonus! The normal game itself can also be played on Windows PC, Mac, and Linux.