---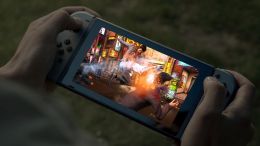 The Yakuza series has a very strong and dominant presence on PlayStation, calling it home since the very first installment back in 2005. The series has stuck close to PlayStation consoles ever since, with a few oddballs here and there for on the go and mobile. All of this begs the question: Will we ever see the Yakuza games on the likes of Xbox One and Switch? As it turns out, Yakuza series producer Daisuke Sato has a lot of thoughts on the matter and was recently sat down for an interview with Gameblog.fr. All of the details have been handily translated by Gematsu, wherein Sato discusses other platforms, future Yakuza games, and even an addition to Binary Domain.
Some might not be aware of this, but the Yakuza series did make a brief foray into the Nintendo console space! However, this only happened in Japan. In the middle of 2013, Yakuza 1 and 2 got an HD Edition bundled release onto the Wii U. This bundle was based on the same Japan-exclusive 1 & 2 HD bundle that released for PlayStation 3 a year prior. The HD remasters saw the standard HD performance boosts for both titles, as well as Yakuza 1 adopting the improved combat of Yakuza 2. Despite the attempt on Wii U, its sales numbers fell flat. This can likely be attributed to its lack of popularity as a console, especially when one considers how popular the Yakuza series is over in its native Japan. Due to this Wii U release being the only time the series has strayed outside of PlayStation, PC, and mobile, it seems to have left an effect on Sato. "To be realistic about what happened, Yakuza 1&2 HD for Wii U was a huge failure," the producer stated. "As far as Switch is concerned, I'm convinced that it isn't the ideal platform on which to develop Yakuza games. Maybe people don't expect this kind of game on Switch. Maybe they're used to different games. It may not be the ideal platform."
Sato's thoughts on Xbox were a little more hopeful though. "As for Xbox One, we can consider it, knowing that Xbox One users may be more likely to be interested in a game like Yakuza." The news comes as a bummer to Switch fans, as Nintendo's newest console has seen insane levels of popularity and sales numbers globally, including in Japan. This has also led to the handheld-console hybrid getting a lot more mature-styled games, in comparison to the Wii U's more family-friendly library. Even so, not all the news was bad. Sato discussed the possibility of a sequel to Yakuza 0, titled Yakuza 0-2, and said that while it isn't currently something they're doing, it would feature young Kiryu and Majima again if they were to make it. He even threw out the possibility of a sequel to 2012's Binary Domain, a Sega title he directed. According to him, it would have to be up to Sega, though he's fully on board to make a sequel.
While it's not a complete hope destroyer, it does mean we at least won't be seeing the Yakuza games on Switch any time at all in the near future. Thankfully, the games are becoming very easy to catch up on via the PlayStation 4, which currently has 0, Kiwami, an upcoming Kiwami 2, and 6. Eventually, it appears the PS3's 3, 4, and 5 will also be making their way to PS4 as well. If you're an Xbox One owner, it sounds like your chance to play the series may be coming soon enough. Yakuza 0 is the unique game of the group in that it's the only mainline Yakuza game available on Windows PC, likely Sega's attempt to see how well that's been doing. For the full interview breakdown, make sure to check out Gematsu's translation! Recently, Yakuza Kiwami and Yakuza 0 entered Sony's PlayStation Hits lineup for PS4, meaning their prices dropped down to $19.99, complete with the certified red Hits banner; yet another good reason to start getting into the games.