---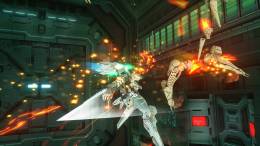 Ah, the Zone of the Enders games. It was a mecha series that some might be quite familiar with if they're also fans of Hideo Kojima and Konami's past titles from way back in the day. The first two Zone of the Enders games released around the early 2000s for the PlayStation 2, both being directed by different directors, and both being produced by Hideo Kojima himself. The sequel, Zone of the Enders: The 2nd Runner, is gearing up for a brand new remaster here soon under Konami's helm and the development by Cygames, though it was hit with a delay today for reasons yet unspecified. Originally this remaster, entitled Zone of the Enders: The 2nd Runner - Mars, was planned to be released sometime this Spring, but Konami has announced via a new technical comparison trailer that the game will now be releasing this September instead.
The sequel saw fresh new light back in 2009 when it also got an enhanced remaster in the Zone of the Enders HD Collection for PlayStation 3 and Xbox 360. That package also came with a remaster of the original Zone of the Enders. This new remaster was announced just last year during the Tokyo Games Show. With it, the focus is now to bring enhanced 4K visuals to 2nd Runner with the graphical fidelity of the PlayStation 4 Pro (though it will be available on the normal PS4, of course). Perhaps the biggest new addition to this remaster is an all new first person perspective VR mode, complete with its own type of gameplay, so PlayStation VR owners are going to want to keep an eye out on this one as well. It stands opposite of the third person gameplay of the actual game. The remaster will also have enhanced audio to seal the deal. It is unknown if there will be future support for other VR platforms as well for PC players.
The aforementioned trailer that Konami put out includes a whole lot of useful comparison shots between the original Zone of the Enders: The 2nd Runner, the HD version from 2009, and the Mars version being made. While the differences between the former two were a little more subtle, you can really see the difference with the Mars version, especially compared to the 2003 original. Those who are looking to get in on this game will have a choice to play it on either PlayStation 4 or PC via Steam, making it the first Zone of the Enders title to be released on the digital platform (which could bode well for the future of the first game too for the PC community). You can check out the trailer below and examine the differences for yourself. While September feels like a far ways away, chances are the pushback will help for improving the quality of all aspects of the remaster. We will find out here in six months!